TMC Property Solutions
The Premier House Buyer In The DFW Real Estate Market
Sell Your House Fast in Dallas Fort Worth
A Little About Us…
Real Estate Solutions For All
TMC Property Solutions is DFW's premier House Buyer and is a Veteran owned and family-run real estate investment & solutions company. We work with homeowners, buyers, sellers, real estate agents, contractors, and investors buying and selling all types of residential real estate i.e., houses, mobile/mfgr homes, multi-family/apartments, and land. We are confident that we can find the right property or create a home solution for you.
Whether you need to sell your house, are looking to buy your next investment property, or are looking for your family's "forever home", we can help. We are confident that our dedication to making your experience smooth and successful will be evident right away.
At TMC Property Solutions we specialize in buying and selling our houses at a price, and on the timeline that works best for all parties involved. Our extensive knowledge of real estate investing and our large network of real estate investors nationwide allows us to offer more choices and a wide variety of selling options for all types of home buyers and sellers, including financially distressed homeowners.
Our mission is to work hand in hand with all parties, to handle every situation with the utmost professionalism and care, and to seamlessly close on every transaction we make offers on while doing what's best for you our customer. We love helping people and improving neighborhoods and redevelop areas where we work.
With a wealth of experience (20+ years) in buying and selling houses under our belts, our team and network of real estate experts have handled some of the most complicated real estate transactions on the market today.
Whether you're looking to sell your existing home or investment property or are looking to buy your forever home or a new rental property, we are dedicated to helping you find the right property for your needs.
We are not realtors so we will not be acting as your real estate agent or broker, but we are excited about working directly with you OR with your agent or broker if you are represented by one. If you have additional questions on agencies please contact your local real estate commission.
Featured Property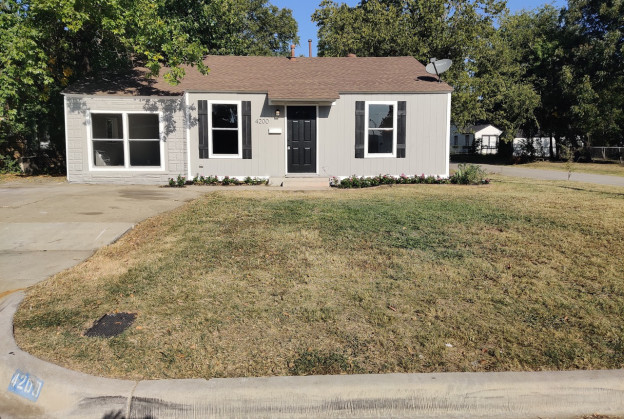 4200 Lisbon St
Fort Worth, TX
Totally renovated and awaiting your family to move-in and call it "Home" before the holidays. This adorable Factory Place Addition home includes a brand NEW master suite with dual sinks, walk-in shower, walk-in closet, oversized living area, dining room, new stove, microwave, disposal, laundry room, updated electrical, updated plumbing, new flooring, fresh paint throughout, new fixtures, paint, doors, sinks, and tile in both bathrooms. This home is "absolutely" ready to share the love with your family. The home sits on a large corner lot with a spacious back yard, and is only a few minute's drive to Dickies Arena, cultural district, downtown Fort Worth, Magnolia, West 7th, and TCU. We can't wait to share this home with you! Owner financing terms available with a reasonable downpayment. You may qualify for city down payment assistance on this home. Call Ruth Ann at 817-721-6389 to learn how. Receive a $200 Home Depot gift card if moved in before Christmas. CALL NOW!
Our Services Offered
Testimonials
"I was stationed at JRB Fort Worth with the Marine Corps until I got orders for recruiting duty.  My wife and I had been trying to sell our home for 6 months before our move and had no luck.  We considered renting out our home but with being 14 hours away from Ft Worth that was no longer an option.  I gave Tim a call and in a matter of 3 days our housing problem was solved and we no longer had to worry about losing what we worked so hard for.  Tim had taken care of everything with our home.  Of course, we were a little skeptical at first but we had the freedom to call Tim any time with any questions.  All payments had been made before or on the due date as required. Tim provided excellent and professional service for our home and we had peace of mind when we had to PCS.  I know he will  help you and your family have peace of mind as well."
"Tim assisted me in purchasing my first home and made it a very smooth experience for me. He was very knowledgeable and guided me in the right path. Due to my low credit score, I was not able to secure a loan in my name but he suggested I could go for owner finance with TMC Property Solutions and then refinance when my credit gets better, and next thing I know I was a happy homeowner.
They are fair and honest in their dealings and I would strongly recommend them."

"My wife and I purchased our new home recently.  Closing on our new home was a catastrophe, it took 12 weeks!!!  Although this was completely due to the finance company, we did not want to chance another drawn out affair and the thought of making house payments on a home we did not live in until it sold was troubling.  I had seen Tim's truck from TMC Property Solutions around town so I called him out of the blue.  He quickly responded to me with several offers and we came to an agreement on the spot.  There was always an open line of communication and we were kept updated at all times.  After the first meeting we closed in short order.  I feel that Tim along with the work of his very pleasant team saved us several thousands of dollars that we would have spent on mortgage payments, electricity, water, taxes, etc.
TMC Property Solutions comes highly recommended from us."
Recent Posts
Real Estate Lead Generation 101

Real Estate Lead Generation 101 What is the best real estate lead generation options today? Where and how can real estate investors, agents, and other related industry professionals generate more leads for buying, selling, rehabbing and renting properties? What are some of the little-known benefits, and pitfalls of common real estate lead generation channels today? Here are […]

Tips For Selling Your Home In Weatherford

13 Tips For Selling Your Home In Weatherford… We've all heard about how "bad" the real estate market is. What's unpleasant for sellers can be awesome for buyers, and these days, savvy buyers are out in spades trying to benefit of the buyer's market. Here are Thirteen Things/ tips for selling your home in Weatherford. Be sure […]

What is a Home Owner's Association (HOA)?

A Home Owners Association (HOA) is an organization that manages a subdivision. The real estate developer is responsible for creating and putting the HOA together. This HOA sets the rules and regulations of a community and is in charge of the upkeep of the development. In particular, the common areas within a development such as […]